Rooted in Sweden - Newsletter in English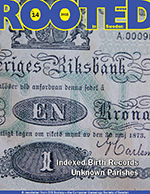 Ever since the DIS Society was founded back in 1980, the purpose of our organization has been stated as "to investigate methods and develop computer tools to support genealogy research, and in general stimulate Swedish genealogy".
In the beginning, DIS has mostly supported genealogists living in Sweden. Since a few years we feel it is time to further extend the meaning of "Swedish genealogy" to include every person on earth having Swedish ancestors or other relatives. Millions of Swedish-Americans, Swedish-Australians and so on are part of Swedish genealogy.
Thousands of Swedish DIS members have found their unknown relatives abroad by using computer-based research. We want to make it easier also the other way, that is to support Swedish descendants all over the world to make it easier to establish contact with their previously unknown Swedish relatives. Our database Disbyt is a powerful tool to establish the important first contact.
Very often these new opportunities lead to family reunions, either in the "new" country or back in "old Sweden". It is fascinating to read stories about such reunions and realize how strong family ties can be, even if a century or so has elapsed since the original emigration. Do you have such a story to tell?
We hope that Rooted in Sweden will make it more comfortable to be a non-Swedish speaking member of DIS, and will result in even more DIS members outside Scandinavia. There is a great potential, remembering that there is said to be more Swedish descendents in America than in Sweden itself.
Short notes and long articles are welcome
The quality of a news letter is always depending on the content. Let us know what you want to read or feel free to write a short note or an article. Send an email to the editor at editor@dis.se. We would also very much like, if somebody could be a co-editor and write about what's going on in the United States, since we don't have the time to keep our eyes open everywhere. Also reports from other countries would of course be welcome.
Do you have any comments? Send an email to editor@dis.se.
Note: as of May 2018, the publication of Rooted in Sweden is on hold, lacking editorial resources. The latest issue is number 15, published in March 2016.
All issues
No 15, March 2016 - download as a pdf.
No 14, October 2015 - download as a pdf.
No 13, December 2014 - download as a pdf.
No 12, August 2014 - download as a pdf.
No 11, October 2013 - download as a pdf.
No 10, March 2013 - download as a pdf.
No 9, September 2010 - download a pdf
No 8, January 2010 - download a pdf
No 7, August 2009 - download a pdf
No 6, December 2008 - download a pdf
No 5, January 2008 - download a pdf
No 4, April 2007 - download a pdf
No 3, June 2006 - download a pdf
No 2, December 2005 - download a pdf
No 1, August 2005 - download as a pdf