New interface
Disbyt now have a new interface. You find Disbyt at the old address disbyt.dis.se , you can also search directly from Disgen. Classic Disbyt is still available for a short while at disbyt-classic.dis.se , however it will be closed down in the fall.
If you do not master Swedish you can change the language to English. Look in the lower left corner and click on the desired flag.
Inside Disbyt you have the flags for changing the language in the upper right corner.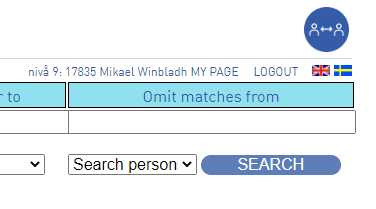 Choose your language
What is new?
First and foremost, you are greeted by a new interface with a new layout on the cross instead of the height.

New search options which, among other things, means that you do not need to include the last name in the search. But keep in mind that excluding a last name can give to many rows in the result. Your access is governed by your contribution to Disbyt and can offer slightly different results in classic and new Disbyt.
Let's look at an example

Search results
For example, we use Gust Lena Olofsdotter and her father Olof Bengtsson Råstedt from Stora Åby in Östergötland. The examples below are based on the fact that you have submitted information on at least 1000 people over the past two years. If you have not done so, now is the time to get access to the new opportunities!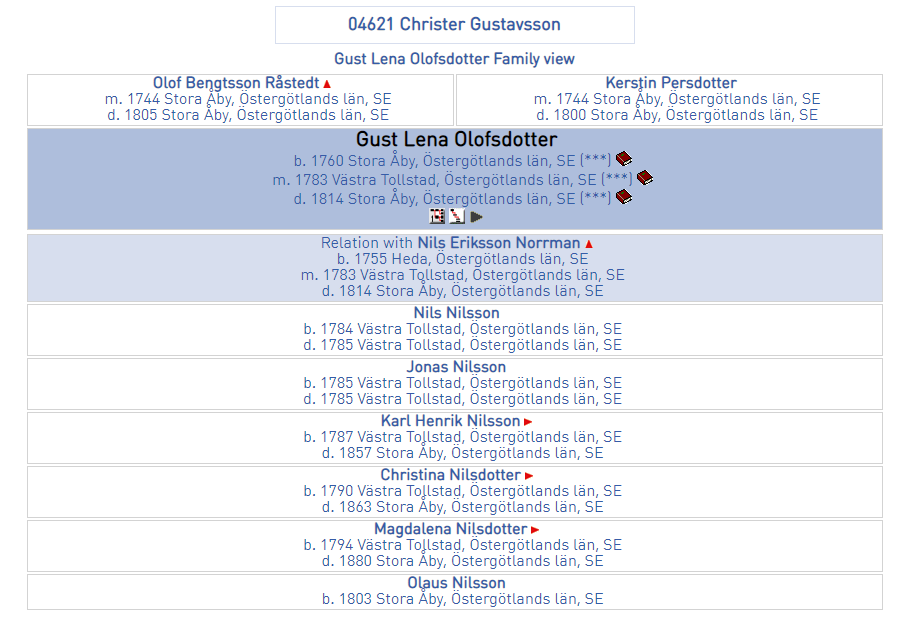 The layout of the family view is shown above and it contains basically the same information as before.
Family Tree
Even the family tree is very similar to the previous one. One difference is that you can choose how many generations (2-5) to display. You climb the tree in the same way as before by clicking on the name (link).

Ancestors to Gust Lena Olofsdotter
The pedigree with descendants and the opportunity to compare the results of different researchers is brand new.
The descendent chart is presented as a list of persons, partners and children for one generation at a time. Here too, you can choose how many generations (4-6) to display. When you click on the name (link) the person is presented as proband in a family overview.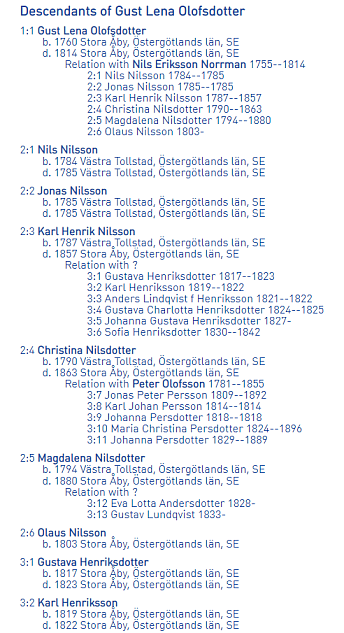 Descendent chart with examples from proband to grandchildren.
Comparison
By comparing the results of several researchers you can discover differences in research results between your and other researchers' results. Below is a good example for contact to find out where the differences lie. If you click on the genealogist's name, you will get their contact details.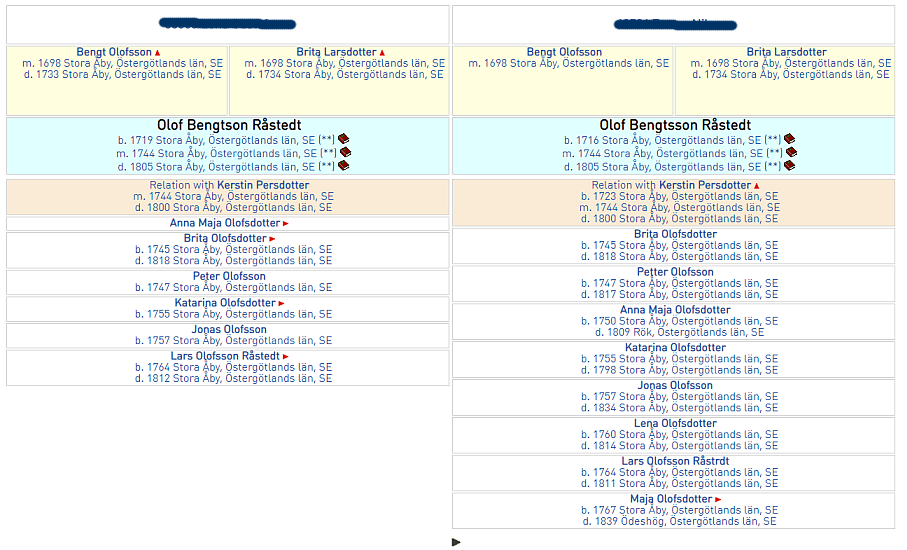 Examples of results of a comparison